Rural Media runs a BFI Film Academy for young aspiring filmmakers aged 16-19, the academy runs between Oct and March and applications usually open in July. Watch this space for further details.
The Academy offers a series of workshops and masterclasses from industry professionals. From scriptwriting to producing, directing to editing, you'll gain all the skills you need to develop as a filmmaker and by the end of the course you'll have made your own short film!
You will get hands on filmmaking experience which will help you develop practical knowledge and skills
You can explore your own creativity and passions in a supportive and dynamic environment
You will gain invaluable experience working alongside industry professionals
You will watch a range of cinema from British Independent to specialised films
Once you have completed the course, you will become part of the growing BFI Film Academy alumni network with access to events such as BAFTA career talks
There's also the opportunity to gain a qualification in Preparing to Work in The Film Industry (https://www.ncfe.org.uk/about-ncfe/), to help you take that next step in your career.
Applications for the 2019 BFI Film Academy are now open. Please complete the online application form.
Any questions and for further information, please contact bfi@ruralmedia.co.uk or 01432 344039
Watch short films made by previous academies here
FAQs
Where does the academy take place?
Most of the academy happens at Rural Media's studios on West Street, Hereford. Production filming days will be on location; Well confirm this location soon.
How much does it cost?
The cost of the course is £25.00 There are bursaries available to cover this cost and travel expenses. (Dependent on your circumstances).
I'm at college. Is the BFI Film Academy still accessible?
Yes! The course takes places outside normal education hours on Wednesday evenings, some weekends and a production week in the 2019 October half term.
Do I need to be an expert in film already?
Not at all. You need to be interested in an aspect of filmmaking. This could be camera, sound, directing, costume, design, music, production, graphics.
I'm not going to be able to make every session, is this a problem?
We try to be as flexible as possible, but it's important you attend as many of the sessions as possible. You'll need to be able to attend ALL of the production week in October half term. If you have specific circumstances that may make this difficult, please contact us and we can discuss this with you.
QUESTIONS: Contact us on bfi@ruralmedia.co.uk or call us on 01432 344039
CURRENT SCHEDULE (subject to change)
OCTOBER
Wednesday 9th October 5pm-8pm: Welcome and Overview
Saturday 12th October 10am-4pm: Cinematography, Camera, Lighting
Sunday 13 October 10am-4pm: Directing Masterclass
Wednesday 16th October 5pm-8pm: Introduction to Story
Saturday 19th October 10am-4pm: Story Masterclass and Workshop
Sunday 20th October 10am-4pm: Script Masterclass and Workshop
Wednesday 23rd October 5pm-8pm: Production Masterclass
OCTOBER HALF-TERM INTENSIVE WEEK
Monday 28th October, 9:30am-5 pm: Visualising Script and Sound Production Masterclasses
Tuesday 29th October: 9:30am-5 pm: Casting Masterclass Casting Workshop
Wednesday 30th October: Pre-production
Thursday 31st October 2019, 9am-5pm: Production Day 1
Friday 1st November 2019, 9am-5pm: Production Day 2
NOVEMBER
Saturday 9th November 2019: Editing Masterclass and Workshop
Sunday 10th November 2019: Editing Workshop
Wednesday 13th November 2019, 5pm-8pm: Distribution Masterclass
Wednesday 20th November 2019, 5pm-8pm: Career Masterclass
Wednesday 27th November 2019, 5pm-8pm: NCFE Support
DECEMBER
Wednesday 4th December 2019, 5pm-8pm: NCFE Support
Wednesday 11th December 2018, 5pm-8pm: NCFE Support
Wednesday 18th December: NCFE Formative Submission (Online)
JANUARY-MARCH 2020
Friday 24th January: NCFE Formative Assessment Feedback (Online)
Monday 10th February: NCFE Final Submission (Online)
Early March (date TBC): Borderlines Film Festival Screening (free event)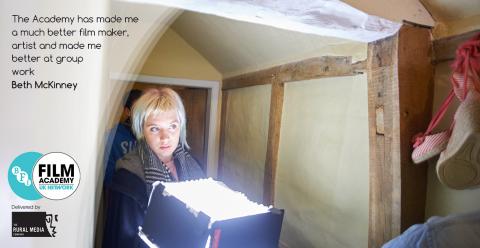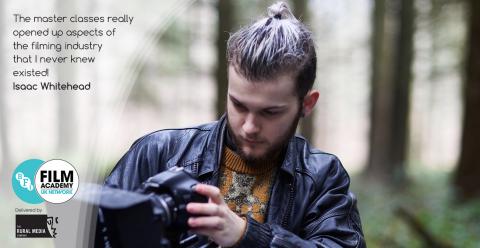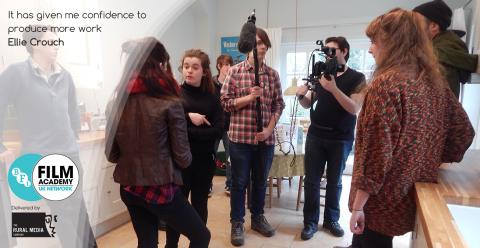 Video
https://vimeo.com/342038024